The facility uses a wide range of equipment, including container top-lifts, forklifts, shunt trucks, zoom booms, and cranes to load, offload, and transfer various types and sizes of cargo.
For the container yard, the Liebherr ReachStacker LRS 645 is the latest design in reachstackers.
Lifting capacity: 45 tonnes
Stack: 6 container high reach
Reach: 3 rows of containers
Driving speed: 25 km/h
Turning radius: 9.83 metres
Forklift: 6,000 pounds capacity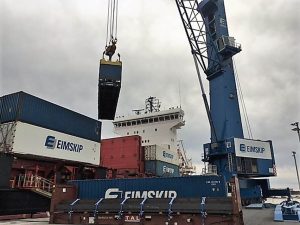 Eimskip has installed a 140 tonne Gottwald Mobile Harbour Crane in Argentia. The Crane is maintained and operated by Argentia Freezers and Terminal (AFT) and is available for rent. For rental information contact AFT at 709-227-5603 or email dtraverse@aharvey.nf.ca
For more information on our container vessels, loading docks, offloading modules, or other equipment, please contact us.
For more information on our equipment, download our brochure.